According to figures provided by the Greater Nashville Association of REALTORS®, there were 3,141 home closings reported for the month of March 2016. This figure represents a 10.7 percent increase compared to the 2,837 closings in March 2015.

Data for the first quarter of 2016 showed 7,601 closings, up 10.1 percent from the 6,904 closings during the first quarter of 2015.
"Home sales performed well in the Nashville area in March, rounding out a solid first quarter in the market," said GNAR President Denise Creswell. "We experienced double-digit increases for both the month of March and the first quarter, compared to 2015. Each of the nine counties in our reporting area saw increases in residential sales for the quarter; all but one had increases in residential median price, as well."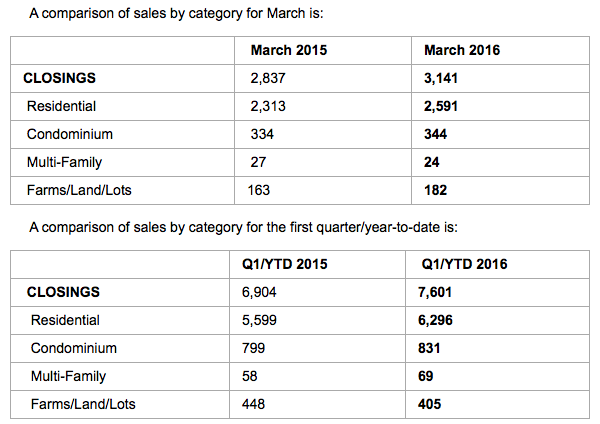 There were 3,285 sales pending at the end of March, compared with 3,083 pending sales at this time last year. The average number of days on the market for a single-family home was 64 days.
The median residential price for a single-family home during March was $245,000 and for a condominium it was $181,894. This compares with last year's median residential and condominium prices of $222,400 and $171,831, respectively.
Inventory at the end of March was 11,951, down from 12,775 in March 2015. The current inventory of properties by category, compared to last year, is:

"Spring is typically the official kickoff of the housing market's busy season, however our market was busy way before that. Given the continued low interest rates and pent-up buyer demand, don't expect a slowdown anytime soon," said Creswell.