SELL

It's a big decision AND it can also be a big job. But that's where we come in. If you're ready to sell, it's our goal to lighten your burden. Our selling experience and knowledge of the market, help us help you… because we know you have plenty of other things to think about, and fun plans to make for your new home!

We understand that Sellers want to…
Sell for the most money possible, in the least amount of time and with the least amount of hassles. That's certainly reasonable and that's our mission for Sellers! And we're good at it.
Together we have over 17 years experience in residential real estate in Tennessee and Georgia. We work with over 50 clients per year to help them find or sell their homes. We've marketed, bought, sold and rented hundreds of homes and we are experts at what we do. But what truly makes Steve and Carol Rice different? Why should you hire us?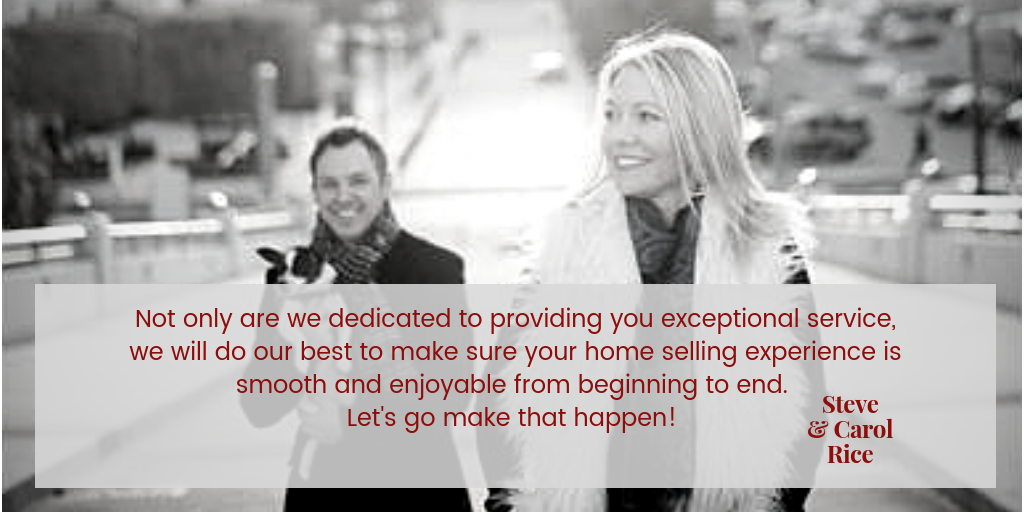 WINNING COMBINATION
What elements make a winning team? For the two of us, it's knowledge matched with hard work and understanding our client's goals. Since we each have different strengths and specializations, we lean on each other to create a power team for you! We are honored to have been recognized by our clients for our diligence and productivity. See what they have to say on our Testimonials page.
INDUSTRY EXPERTS
We want to be the best we can possibly be in business. We are wisdom seekers, together taking part in over a hundred hours of industry and personal growth training annually. We not only educate ourselves on industry trends but also tour local neighborhoods and observe those areas' transformations firsthand.

CUSTOMER SERVICE
As a client, YOU are our focus and your best interest our mission. We understand that when you hire a Realtor, you expect professional and personalized service. You need to be able to reach us and you need to feel comfortable asking what may feel like the silliest questions. We work for you!
PERSONAL INTEGRITY
There is nothing more important to us than personal integrity. We hold not only to the Tennessee Realtors Code of Ethics, but to our own code of faith, honesty, integrity and diligence, in all things.
GIVING BACK
We volunteer personal time, as well as give from our family pocket, to local community programs, charities, and faith-based ministries. It's not just that we feel a sense of responsibility and calling to serve others. We actually enjoy it and believe that when any of us helps someone else, it brings a little more light and joy into the world for all of us.

You can learn more about us here.
Steve & Carol